Want to learn more about what water-wise plants to choose for your garden, or are you interested in facts about EBMUD projects, programs or studies? A variety of information is provided below. 
Biennial Report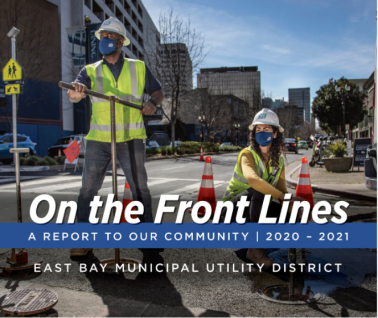 The latest Biennial Report for 2020-2021 highlights EBMUD's commitment to comprehensive planning, public health and environmental protection and a solid financial foundation.
Customer Pipeline Newsletter

This publication contains brief articles sharing useful information such as water conservation tips, protection of the San Francisco Bay, and discussions of water and wastewater projects, budgets and rates, as needed.
Current issue: Customer Pipeline -- September/October 2023
Factsheets
EBMUD factsheets contain information about ongoing projects, water quality, and other customer related issues.
Curricula and classroom materials
Classroom materials are distributed free to public and private schools in EBMUD's service area and near EBMUD's Sierra foothills facilities (Amador and Calaveras counties, Lodi and Linden). Classroom materials are aligned with state standards and can be ordered online. Learn more information about EBMUD's school program.
This award-winning book contains more than 525 beautiful color photographs and features 650 Californian and Mediterranean plants well suited to summer-dry climates of the Bay Area and beyond.
---
Reports
Find out about EBMUD's work to deliver high-quality water and protect the Bay with award-winning wastewater treatment programs. EBMUD publishes a biennial report corresponding to its budget and an annual report on water quality.
This document summarizes the efforts taken in all EBMUD operations to address the impacts of climate change. 
This document summarizes the efforts taken in all EBMUD operations and policies to improve sustainability.  
This document summarizes the key initiatives deployed and the approach, actions, and insights captured from the 2014-2016 drought response.  
Local Hazard Mitigation Plan (2023 Draft) 
The 2023 East Bay Municipal Utility District Local Hazard Mitigation Plan is undergoing draft review. 
This document reflects EBMUD's current system upgrades, improvements, and mitigation measures to reduce the community's exposure to hazards and to improve service reliability. 
Biennial Reports
Annual Water Quality Reports
---
Water conservation studies
Studies help EBMUD evaluate technologies and methods.