New Budget and Rates Under Development
EBMUD's budget and rate-setting process for fiscal years 2024 and 2025 is underway. New rates will take effect July 1, 2023, and again on July 1, 2024.
At the second in a series of public workshops held on March 28, 2023, EBMUD staff presented to the Board of Directors a proposed budget for the next two fiscal years (July 1, 2023– June 30, 2024) totaling $2.66 billion with the water system representing 83 percent and the wastewater system 17 percent of the budget.

Investing in the Future
EBMUD is here for you – in each drink from a faucet, each shower and handwash, and every drop sent down the drain. We provide clean water to every home, business, hospital and school in our service area. For a century, we've supported the East Bay's health and economy while protecting the environment.
Looking forward, we face numerous challenges as we work to provide reliable, high-quality water and wastewater services. Aging infrastructure, some of it more than 100 years old, needs continued maintenance and replacement. Climate change is driving the aridification of the American West and bigger swings between severe droughts and intense storms. Our water systems must deal with emerging contaminants. And wastewater treatment, provided for more than 70 years for shoreline cities in our service area, must reduce stormwater infiltration and limit nutrient loads to better protect public health and the San Francisco Bay.
To meet these challenges, EBMUD is entering the most capital-intensive period in its history. We're increasing our five-year capital improvement program to invest $2.8 billion to rehabilitate water treatment plants, pumping plants, reservoirs and pipelines. We're upgrading our wastewater facilities and sewer interceptors.
EBMUD is a not-for-profit public utility. Your rate dollars directly fund operations and capital improvements. We are recognized as responsible financial stewards and are the only California water utility to receive Moody's Investors Service's highest AAA water bond rating.
Regular customer rate increases are necessary to invest in building a resilient and reliable water and wastewater system of the future. As we innovate to improve our infrastructure and service, we confront rising costs due to supply chain disruptions and inflationary pressures on equipment, chemicals, energy, and labor.
EBMUD is proposing rate increases that would result in average single-family customer water bill increases of 19 cents a day when new rates take effect July 1 and another 21 cents a day beginning July 1, 2024. Rates for wastewater customers would rise 7 cents a day each of the next two fiscal years. These represent increases of approximately 8.5 percent in both FY 2024 and FY 2025. Actual changes in a customer's bill will depend on how much water is used each billing period.
Our precious drinking water remains a good value at just over a penny a gallon. But we know any cost increase can be a hardship for some, so we're also making our Customer Assistance Program easier to access for those who have trouble paying their water bills.
EBMUD is dedicated to serving East Bay customers and investing in our community as we have for a century. Thank you for investing your trust in us.
Workshops and meetings 
Customer Notification
Proposition 218 requires that a notice about the changes to proposed rates and charges and other fees be mailed to all customers and property owners 45 days before the public hearing on rates and charges held by the Board. EBMUD mailed this notice to customers and property owners in Spring 2023. It explains that the proposed rate increases to the water and wastewater service charges are necessary for EBMUD to recover current and projected costs of its operations and maintenance, and fund capital infrastructure improvements and repairs.
Frequently Asked Questions (FAQs)
Protest Procedure
Customers and property owners have the right to submit a written protest to the proposed increases if they will be affected by the increases. The right to submit a written protest includes both property owners and tenants who directly pay the EBMUD bill.
When submitting your protest, please identify which water or wastewater service charge increase or increases you are protesting. The proposed rate increases will not take effect if EBMUD receives written protests from a majority of the affected parcels.
Any written protest must include the following information:
State the specific service charge increase (water and/or wastewater) you are protesting
Provide the location of your parcel (by customer account number, street address, or assessor's parcel number); and
Include the name and signature of the property owner or tenant submitting the protest.
Protests which do not include this information will not be counted.  We will count only one written protest per parcel.  Written protests must be received before the end of the June 13, 2023 public hearing in order to be counted. You are also welcome to speak at the public hearing, but any comments given verbally or by email or other electronic communication will not be counted when we determine whether or not a majority of parcels have protested.  Written protests must be submitted by mail or hand-delivered to the front desk or dropped off at the June 13 public hearing that will be held during the EBMUD Board meeting, which begins at 1:15 p.m.
Mail Protests To:
Deliver In-person:

EBMUD
MS 218 
PO Box 24055
Oakland, CA 94623-1055

EBMUD
375 11th Street
Oakland, CA 94607-4240
Services to help
EBMUD recognizes the Bay Area's high cost of living and offers one of the most generous customer assistance programs in the state. Our Customer Assistance Program provides discounts to qualified customers based on income level. For information, visit: ebmud.com/CAP.
Your Rate Dollars at Work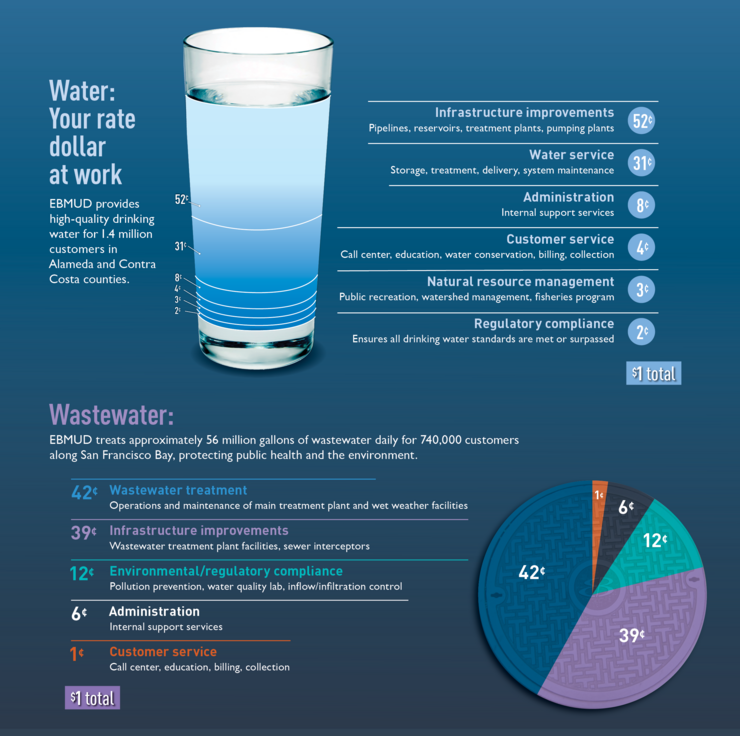 Based on proposed FY 2024 / FY 2025 biennial budget.
Rate information (currently in effect)
Explanation of water rates and charges.
Explanation of wastewater rates and charges.
Complete list of water, wastewater, administrative and recreation rates, charges and fees.
Water and Wastewater Rates Cost of Service and Capacity Fee Studies
Water and wastewater rates are established to recover costs included in the District's operating and capital budgets, meet the District's policy goals and comply with applicable law, including Proposition 218 and the Municipal Utility District Act ("MUD" Act). Rates should also enhance the District's ability to provide safe, reliable, and sufficient water supply and wastewater treatment services to its customers over the long term.
The Water System Capacity Charges (SCC) and the Wastewater Capacity Fee (WCF) recover the proportional shares of the costs of water and wastewater facilities for new customers joining the water or wastewater systems or for customers requiring increased water demand or wastewater treatment. The SCC and WCF comply with applicable law, including Proposition 26, California Government Code Section 66013, and the MUD Act.
To ensure that the water and wastewater rates and capacity fees are established in accordance with municipal water and wastewater rate setting principles and in compliance with applicable law, the District hires independent financial consultants to conduct periodic water and wastewater rate cost of service studies and capacity fee studies. The results of these rate costs of service and capacity fee studies are typically updated annually.
Water and Wastewater Capacity Funds Reports
Customer Assistance Program 
Through our Customer Assistance Program, EBMUD provides discounts to qualified customers based on their incomes. Learn more.