Enjoy an environmentally beneficial water-wise garden that thrives year round and saves water, money, and time.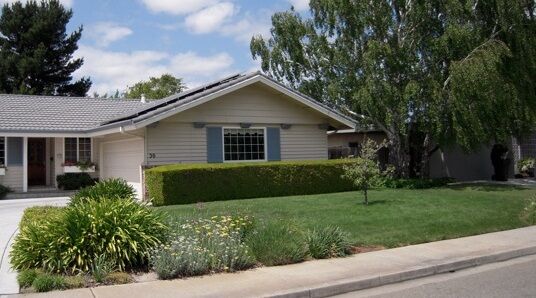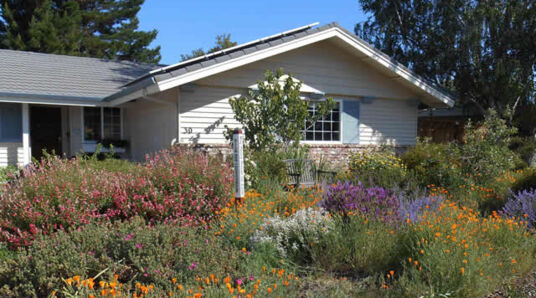 ---
How much is a rebate?
Rebates are calculated based on square feet of lawn converted:
Standard: $1.25

 / sq. ft.

Super: $2.50 / sq. ft.
Median Strip: $2.50 / sq. ft.
Maximum rebate in a 2-year period:
$2,000  for single-family and small multi-family homes
$15,000 for commercial, municipal, and large multi-family properties
What's new?
We're in a severe drought! EBMUD has increased rebate rates and will double your rebate to $2.50 per sq. ft. of lawn converted if you participate in either of our two pilot rebates:

Super Rebate
Adopt the following best practices to qualify for double the standard rebate:
Sheet mulch to remove lawn
Add compost to replenish the soil
Choose majority CA native plants tailor-made for local conditions
Plant in the cool season, from September through February
Applications are accepted year round; apply early to get a head start before the planting window begins.

Median Strip Rebate
Do you irrigate narrow strips of lawn surrounded by hardscape (e.g., sidewalk, street, parking lot) on a commercial, multi-family, or municipal property?  
Since it's nearly impossible to irrigate these areas efficiently with overhead sprinklers, we're offering double our standard rebate for converting from lawn to water-wise plants and drip irrigation.
Review examples of qualifying median strips. Reach out to waterconservation@ebmud.com with any questions about eligibility.
---
General eligibility requirements
To be eligible for a lawn conversion rebate, applicant must confirm that:
Existing lawn has been actively maintained and irrigated by potable EBMUD water.  
Lawn conversion project has not started.  Project will not begin until EBMUD provides written notice of pre-approval. 
Refer to the rebate application for a full list of requirements.  
---
How to apply
Step 1. Carefully review the requirements listed on the application to make sure that your project is eligible.
Step 2. Send in your completed application to EBMUD Water Conservation (waterconservation@ebmud.com). Please include photos of the existing lawn (see sample application for examples).
Step 3. Wait for pre-approval before starting work. 
After your application is pre-approved
Step 1. Convert your lawn. Get started by visiting our Lawn to Garden Design Center.
Step 2. Notify EBMUD of your project completion before your application deadline.  We will ask for photos clearly showing the entire lawn area converted, plant coverage, mulch, and irrigation. Applicants who do not complete their project prior to the application deadline will lose their rebate eligibility. EBMUD may grant an extension if requested prior to the deadline.
Step 3. After the post-completion inspection and the determination of the final rebate amount, the rebate is issued as a credit on your water bill. For residential customers, rebates of $600 or more in a single tax year require a W-9 form.
---
Resources for a successful project
---
Frequently asked questions
Application and resources