Whether you're converting your grass to a new water wise garden or simply looking to add color to an existing one, we've got the plant for you!
Low-water plants
---
Design resources
---
Research tools
---
Nearby nurseries with low-water plants
Some of the greatest nurseries in the world are just down the street. Below is a list of local nurseries with dedicated low-water use plant sections. If we are missing your nursery, please let us know!  Also visit Stop Waste to check out Bay-Friendly Partner Nurseries and nurseries featuring California native plants.
---
Plants to avoid
Some plants aggressively spread beyond the garden and into neighboring open spaces, negatively impacting the local ecosystem.  Learn what to avoid, and what to plant instead!
Lawn conversion applicants: Avoid common mistakes by reviewing our "Do Not Plant" list.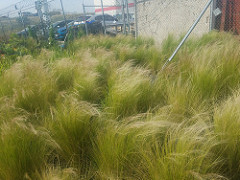 Plants may be invasive in some regions of California, and not invasive in others. Use this map and list to identify the best choices based on where you live. 
Find beautiful and hardy alternatives to common invasive plants in the Bay Area. This list is updated regularly by the California Invasive Plant Council.