EBMUD Water Operations Update 
EBMUD makes adjustments to the way we operate our vast system for reasons including infrastructure improvements, seasonal changes, drought response, and shifting water demands from customers. In all cases, the water that reaches customer taps meets or exceeds all standards for safe drinking water.
Most of EBMUD's water supply comes from Pardee Reservoir about 90 miles east of our service area. Because of ongoing construction projects, we are relying more heavily on our local reservoirs compared to a typical year. This locally stored water has more minerals, making it taste different. In addition, the water from East Bay reservoirs can be affected by algae blooms which give the water an earthy or musty taste and odor. Both the Sobrante and Upper San Leandro Water Treatment Plants treat water from these local reservoirs. Their ozonation systems are designed to remove these smelly compounds but not the minerals. Regardless of the treatment plant in service, all customers receive high-quality drinking water.

For more information about water quality or to report a water quality concern, call EBMUD at 1-866-403-2683.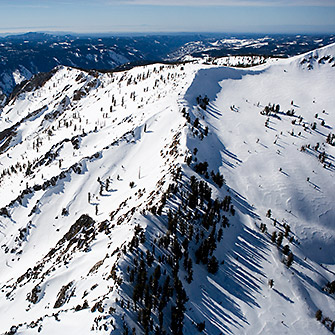 One of the most important factors in water quality is the source: the purer the source, the better the water. EBMUD's primary water source is Sierra Nevada snowmelt.
Before water reaches your tap, EBMUD takes many steps to ensure its quality. This includes carefully managing and protecting watershed lands and reservoirs, treating the water, maintaining that quality through a complex system of distribution pipes, pumping plants and reservoirs, testing water samples in our lab and in the field, and addressing consumer concerns.
Ninety percent of EBMUD's water comes from the 577-square mile watershed of the Mokelumne River on the western slope of the Sierra Nevada.
Every day of the year EBMUD's laboratory tests water samples to ensure that water quality meets federal and state standards, checking for trace organics like pesticides, metals, and microbes. These efforts ensure that all customers receive high-quality drinking water that meets or surpasses all state and federal regulatory requirements. 
Annual water quality report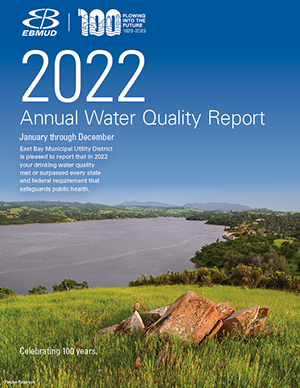 EBMUD is pleased to report that in 2022 your drinking water quality surpassed every state and federal requirement that safeguards public health. If you would like a report mailed to you, please email us or call 866-403-2683.
Previous years' reports can be viewed on the Archives page. The 2022 report is available in Spanish and Chinese.
View Annual Water Quality Report
Water quality FAQs
Customers may have similar water quality concerns. Find answers to the most common water quality questions in our Frequently Asked Questions page.
If you still have questions, concerns or problems regarding water quality, such as taste, odor, appearance, etc., or if you have a water quality emergency, please contact us at 1-866-403-2683.
Water treatment
Every drop of water that comes out of your tap is first treated at one of our treatment plants. EBMUD's six water treatment plants in the East Bay can filter and process more than 375 million gallons of water daily.
Take a virtual tour of Orinda Water Treatment Plant.
Water sampling and testing
In laboratories and in the field, EBMUD samples and tests your water extensively to make sure it is safe to drink. We look for more than 100 substances in the water including microorganisms, pesticides, herbicides, asbestos, lead, copper, petroleum products and by-products of industrial and water treatment processes. More than 20,000 annual laboratory tests ensure the safety of your drinking water.
Public Health Goals Report
Every three years, the District is required to prepare a report with information about any contaminants detected above the state's Public Health Goals (PHGs). PHGs are non-enforceable standards set at very low levels that pose no significant health risk. We are also required to hold a public hearing at which the report is discussed, and receive public comment. The most recent report was discussed at the August 9, 2022 Board of Directors public meeting.