What is Backflow?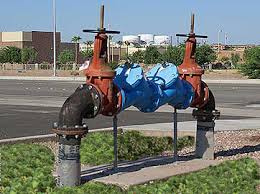 Backflow is the undesired reversal in the direction of the flow of water. It can be caused by either of two conditions:
Back-siphonage (when the pressure in the water supply drops below atmospheric pressure) or,
Back-pressure (when the water in the downstream system is higher than the supply pressure)
Potable plumbing systems may be connected to, or potentially connected to a non potable substance. Backflow preventers stop polluted water from entering the water supply during a backflow event.
Backflow prevention
The California Code of Regulations, Title 17 mandates water purveyors such as EBMUD to administer a cross-connection control and backflow prevention program, which helps to keep potable water from contaminant and pollution exposure.
As part of EBMUD's program, Cross-Connection Specialists are required to conduct site inspections to determine if a backflow prevention device is required as a result of an actual or potential cross-connection hazard on a customers plumbing system.
If you are concerned about something that could contaminate the public water supply, or have questions about backflow prevention, please contact us.
Residential Customers
If your single family residence has a source of auxiliary water such as a well, and the public water system is separate and not connected to the auxiliary system, EBMUD will install, test and maintain an appropriate backflow preventer at no cost to you.
Commercial Customer
EBMUD Cross-Connection Control Specialists actively inspect for hazards that may affect the water supply. Such conditions may exist if your potable water system is connected to a boiler, cooling tower, booster or recirculating pump, or comes into contact with any substance that could cause a health hazard or affect the aesthetic quality of the water supply. If any of these conditions exist on your site, you will be required to install an appropriate backflow preventer.
If you are required to install a backflow preventer, please follow these guidelines:
Follow the appropriate standard drawing.
It is the customers responsibility to install, test, maintain and assume all costs for an approved backflow prevention device installed at the service connection.
The customer has 30 days to complete the installation and testing of a backflow prevention assembly.
Local city and county permits may be required. Please contact your local permitting office.
A list of backflow devices that are approved for use in the State of California can be found here:
After installation:
A test must be performed by a tester on EBMUD's Approved Backflow Testers List. Send the completed test form by mail within 30 days of notification to:
EBMUD Backflow Prevention Section MS 47, PO Box 24055 Oakland, CA 94623
Call and schedule a follow up inspection by an EBMUD Backflow Inspector to verify that assembly is correctly installed.
When a "Notice of Correction" or "Notice of Requirement" is issued, failure to install or correct an installation and then test a backflow assembly may result in service interruption or termination.
Dedicated fire services
An EBMUD Cross-Connection Control Specialist will conduct a survey of the site to determine what type of backflow preventer you will be required to install.
All new fire-services require a flush of the underground piping prior to service activation. The Backflow Section must witness the flush. Please schedule the local Fire Marshall/Fire Inspector before calling EBMUD for a fire flush appointment and then call our office at 510-287-0874. The Backflow Section requires at least a 48-hour notice prior to scheduling the flush. An underground fire service flush will not be performed until an appropriate backflow assembly has been installed.
During the flush, regulations regarding discharging chlorinated water into storm drains must be observed.
Becoming an approved backflow tester
Approved East Bay Municipal Utility District backflow testers must first be certified as a General Backflow Tester by AWWA, ABPA, NCBPA or ASSE. You must also successfully pass a written and hands-on examination administered by East Bay Municipal Utility District Backflow Dept. staff.
If you would like to be included on our list of approved testers, please complete the application packet and return it to the Remittance Office with your payment. After your application has been processed you will be contacted to confirm your appointment to take the examination.
EXAMINATIONS TO BECOME AN APPROVED BACKFLOW TESTER WILL NOT BE SCHEDULED UNTIL 2024
Contact us 
All general questions and requests from customers and Approved Backflow Testers can be made by calling 510-287-0874.