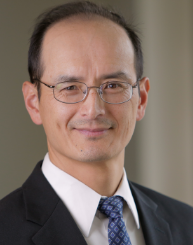 Clifford C. Chan was appointed to serve as the 11th General Manager of the East Bay Municipal Utility District on June 9, 2020. In his role, he oversees delivery of high quality drinking water to 1.4 million residents and businesses in 20 cities and 15 unincorporated communities in Alameda and Contra Costa Counties, as well as wastewater treatment for 740,000 of those same customers. As General Manager, he balances the continued demands of maintaining critical infrastructure and financial stability with innovation in sustainability and long-term water and wastewater planning.
Chan is a 23-year employee of EBMUD with degrees in civil and geotechnical engineering from the University of California, Berkeley.
He joined EBMUD in 1997 as a Junior Engineer. In February 2018, Chan was appointed to lead EBMUD's Operations and Maintenance Department, which accounts for roughly half of EBMUD's 2,000 water and wastewater employees.
Previously he served as manager of maintenance and construction and manager of water treatment and distribution.
Chan made EBMUD history as the first Asian American to hold the position of general manager. He takes the helm as EBMUD prepares to celebrate its 100th anniversary in May 2023.