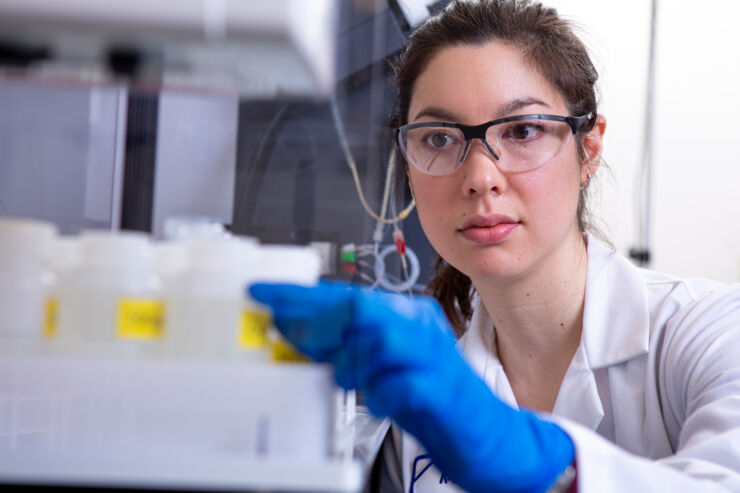 We're excited for you to start and advance your water/wastewater career at EBMUD as part of our diverse workforce. We offer hundreds of job classifications across the organization with competitive salary and benefits. Our organization advocates equal employment opportunity in our hiring process. Below is information about jobs, career paths, and resources to assist you in the testing and selection process. 
The Job descriptions and salary information page provides a complete listing of EBMUD job descriptions, including minimum qualifications and salary range. This is also where you can sign-up to receive email alerts about recruitments for specific job classifications. The salary schedule defines EBMUD pay range for each job classification which is a result of the negotiated agreement with our bargaining units and /or employee associations. It includes proposed base pay, grade level and the associated salary steps.
Career paths at EBMUD
View the different careers paths available at EBMUD with descriptions of skills, experience, education, certifications and licenses needed to move and grow within the organization. To find out more about our employees, go to  On the job with EBMUD.
How to get started with your EBMUD career and tips on completing your application
For most positions, we use a multi-step selection process to hire the best person for the job. All steps combined can take several months to compete. 
Step 1. Meeting the Minimum Qualifications - Your application is reviewed to determine if you meet the minimum required education and experience to perform the job. If you meet the qualifications, you continue in the selection process. 
Step 2. Evaluation - For many positions, a panel evaluates your application and supplemental question responses against other applications to determine who has the best training, experience and qualifications. 
Step 3. Testing - Depending on the position's role and responsibilities, qualified applicants may need to pass one or more employment tests, such as a typing test, a writing assessment, or a skills-based test. 
Step 4. Panel Interview - The top candidate from the previous steps may be interviewed by a panel of experts who will rank candidates by test and interview scores to create an employment eligibility list. 
Step 5. Hiring Interview - The highest scoring candidates from the panel interview eligibility list are invited to a separate hiring interview and a selection is then made for employment. 
For more information and tips on completing an application, please click the link below (PDF). 
*Please note, due to the current health emergency, EBMUD is facilitating most interviews and testing steps virtually. On occasion, these steps may take place in-person with standard COVID-19 guidelines enforced. 
Water Distribution Plumber I 2022 recruitment
Watch the video below for information on the Plumber I Field test
View the Water Distribution Plumber I PowerPoint below for general recruitment information.
Sample test items
The sample items can help entry level applicants prepare for EBMUD's written test with tips, examples of concepts that are covered, and sample problems. EBMUD entry level written tests may include the following subjects: reading, comprehension, math, blueprint reading, reading water meters, and mechanical/spatial concepts. For examples of our test items, please click the link below (PDF).
Need more information?
EBMUD has one of the most comprehensive employee benefits programs in the country. Click on the tab at the right for more information.
Equal employment opportunity
EBMUD is fully committed to the concept and practice of equal opportunity and affirmative action in all aspects of employment. This commitment is reflected in the EBMUD mission statement. The Affirmative Action (AA) Plan conforms with Executive Order 11246 and the implementing regulations of the Office of Federal Contract Compliance Programs. EBMUD cultivates a work environment where all employees and applicants receive equal employment opportunities (EEO) and respect for cultural and gender differences. EBMUD recruits diverse candidates for jobs, communicates AA/EEO expectations to all employees, and addresses EEO concerns appropriately and proactively. See our Equal Employment Opportunity Policy for more information.
As a federal contractor, EBMUD develops an annual affirmative action plan that identifies actions planned to remedy workforce underutilization and to uphold equal employment opportunity in the workplace.