Protecting the environment from watershed to bay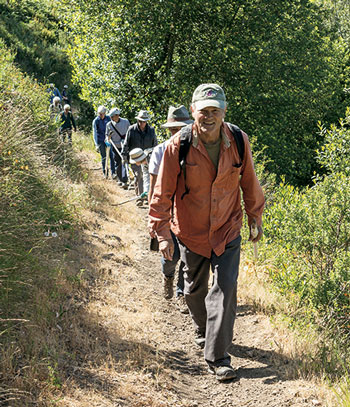 Wherever your feet land in the East Bay, you enjoy special proximity to our watershed. It's closer than you think! When you open your eyes to nature, you can see evidence of water's journey from the watershed to EBMUD reservoirs, through storm drains to creeks, into homes and businesses, from sinks to sewers, and back out as wastewater, which EBMUD cleans and releases to the San Francisco Bay.
EBMUD has been the custodian of beautiful watershed lands in the East Bay and Sierra foothills for nearly a century. Close to home, our biologists monitor fish, wildlife and plant species on about 28,000 acres of East Bay watershed lands, which provide needed protection and habitat for a wide variety of plant and animal species, and provide a natural haven for the public to enjoy. Watershed lands surround five local reservoirs: Briones, San Pablo, Upper San Leandro, Chabot and Lafayette, plus one basin without a reservoir: Pinole Valley. EBMUD reservoirs store high-quality Sierra Mountain water that travels in massive quantities through large aqueducts to get to your tap.
These lands have been largely protected from development and human disturbance. From local creeks and watersheds to San Francisco Bay, the open space corridors remind us that nature in our backyards needs our help. Whether you are reading this near water —a river, a creek, the bay—or whether you are miles away in the hills and valleys of the East Bay, know that we all play a role in protecting our watershed and local waterways.
Join us in our mission to protect the environment. EBMUD offers ways to learn, volunteer, tour and recreate on our watershed.
TAKE A HIKE Join more than 2 million like-minded hikers, horseback riders, wildlife watchers and all-around environmental volunteers along 80 miles of EBMUD trails. Follow the waterways for sparkling lake views, and take in stately redwoods, fluttering wildflowers, wooded glens and open grasslands. Buy a trail permit at ebmud.com/recreation/buy-trail-permit.
LEARN OUTDOORS Each fall, EBMUD rangers host outdoor classrooms to teach children how to enhance habitats, stabilize soils and restore disturbed creeks and lands. Schools can reserve up to three sessions of up to 40 students each school year. Email recreate@ebmud.com to find out more.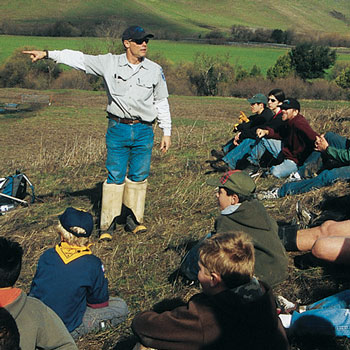 JOIN A CREEK GROUP Year round, faithful, down-to-earth volunteers step forward for local coastal and creek cleanups. Stand in stride with these environmental champions every third Saturday in September for the annual California Coastal Cleanup Day, or at any other of the many events these groups host.