If this is a water emergency please call
1-866-403-2683 any time.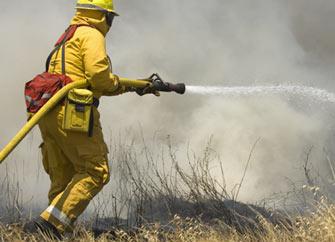 California has it all -- earthquakes, storms, landslides, wildfires and power outages. The need to be prepared is critical.
Though EBMUD continuously works to protect public health and safety by strengthening facilities and practicing strategies for recovery, a major disaster can temporarily disrupt water and wastewater services.
EBMUD recommends customers take steps to be prepared:
Store water - You need at least two gallons per person per day for seven days minimum. Don't forget pets. Read our water storage guide.
Build an emergency kit
Make a plan
Stay informed
Haywired Earthquake Scenario  
EBMUD collaborated with the U.S. Geological Survey (USGS) on a report entitled "HayWired" describing the potential impacts of a 7.0 magnitude earthquake along the Hayward Fault in the East Bay. Read the USGS Report. 
Preparing for Public Safety Power Shutoffs (PSPS) during high fire risk periods
During a PSPS event, EBMUD is prepared to turn on backup generators and pumps to power pumping plants and other facilities to keep water flowing, maintain storage and fire flow, and keep water distribution lines pressurized. Learn more EBMUD's preparation plans. EBMUD also employs multiple strategies to promote fire safety and fire suppression.  
Landscape design for fire safety
Fire spreads rapidly, which is why spacing and maintenance of vegetation is critical. Read our recommendations in Firescape: Landscaping to Reduce Fire Hazards, or order a free copy from the EBMUD online store.       
Quake-Related Web Pages
Emergency Preparedness Information