Biosolids are nutrient rich, organic byproducts of wastewater treatment. These byproducts make a valuable amendment to soils. EBMUD's biosolids are highly processed, monitored, and tested to ensure that they meet or surpass the strict quality and safety standards established by the U.S. Environmental Protection Agency, the State of California, and local governments.
EBMUD is a member of the Bay Area Biosolids Coalition, a group of utilities and industry partners in the San Francisco Bay Area who collaborate to advance the science and beneficial use of biosolids. You can find links to biosolids research and more on the Bay Area Biosolids Coalition website.
EBMUD's biosolids are sent from the wastewater treatment plant to one of three uses: land application on farms, feedstock for compost, or alternative daily cover at landfills. The distribution of biosolids among these uses varies each year depending on weather and other factors. The chart below shows the distribution for the past three calendar years.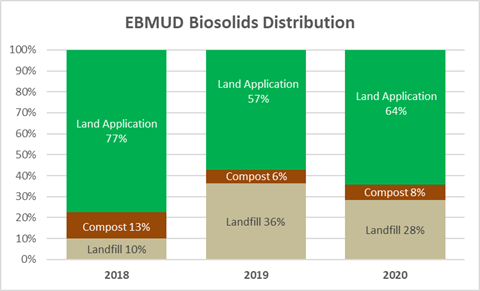 Frequently Asked Questions about EBMUD's Biosolids
For more information on EBMUD's biosolids management program, contact Rebecca Overacre at Rebecca.overacre@ebmud.com, or 510-287-1251.