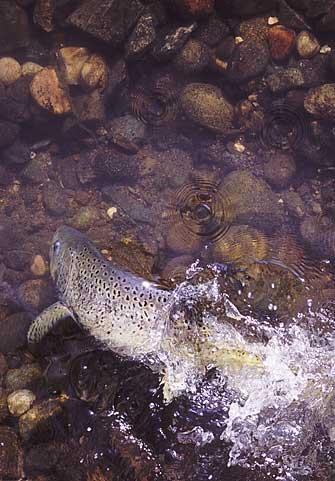 Fall-run Chinook salmon migrate from the ocean and begin arriving in the Mokelumne River in late-summer and early fall to spawn. Many salmon enter the Mokelumne River Fish Hatchery at the base of EBMUD's Camanche Dam where eggs are collected and incubated. Other salmon may choose to spawn in gravel beds throughout a 10-mile section of the river just downstream of the dam. The first six months of a juvenile salmon's life begins with a long journey out to sea during which survival is influenced by both anthropogenic impacts and environmental processes.
Natural-origin salmon spawned in the Mokelumne River must negotiate a maze of natural and man-made tributaries, sloughs, and river channels as they migrate through the interior Delta to reach the Pacific Ocean. It has been shown that juvenile salmon that migrate through the interior Delta consistently experience reduced survival compared to the Sacramento River. Two to three years later, they return to the river to complete their life cycle.  
Visit the Mokelumne River Fish Hatchery
Meet these famous fish! Just downstream of Camanche Reservoir, the Mokelumne River Hatchery raises Chinook salmon and steelhead for release to the Mokelumne River. Picnic tables are available in this quintessential riparian habitat. The Mokelumne River Day Use Area is located nearby. 
Hours: 7 a.m. - 3 p.m.
Address: 25800 North McIntire Road, Clements, CA 95227 
#FishClips: Salmon caught on camera 
Check out #FishClips! EBMUD biologists monitor video footage to count the fall-run Chinook salmon arriving in the Mokelumne River. Check out the exciting adventures and daring exploits of Chinook salmon as they get caught on camera coming home.
Why so many fish?
Salmon returns are typically cyclical and depend on many factors. Conditions within the Pacific Ocean are known to influence survival of juvenile salmon as they migrate out through the Golden Gate. Survival often declines in dry years with warmer ocean temperatures and increases in wet years with cool ocean temperatures. From 2009-2014 ocean conditions were favorable resulting in four consecutive years of annual salmon returns exceeding 12,000 fish from 2011-2014, including a record run of over 18,000 salmon in 2011.
There are many other factors that can influence survival of salmon and steelhead. EBMUD and its partners (California Department of Fish and Wildlife, the U.S. Fish and Wildlife Service, and the National Marine Fisheries Service) use many strategies to protect the fishery, including:
Minimizing predators. EBMUD, with assistance from the California Department of Fish and Wildlife and Woodbridge Irrigation District, removed non-native predator fish below Woodbridge Dam to improve the survival rate of young salmon as they migrate out through the lower Mokelumne River and out to the Pacific Ocean. Non-native predator fish removed from below Woodbridge Dam are trucked to the Delta and released alive.
Hatchery release location. EBMUD and the California Department of Fish and Wildlife have collaborated to pinpoint release locations that increase survival and reduce straying rates. Release locations, utilized in 2009 through 2015, have proven to be beneficial.
Attracting the fish. The Delta is a complex system of waterways. It's easy for salmon to lose their way and end up in a different waterway than their natal stream. In some years, about half of Mokelumne salmon have strayed to the American River. In the past four years, experimental pulse flows on the Mokelumne have been used to mimic storm flows and attract fish upstream, in order to reduce straying and increase to the Mokelumne River. Also, short-term closures of the Delta Cross Channel for a few days when salmon migrate in the fall helped more Mokelumne origin salmon find their way back to the Mokelumne River. With the channel gates closed, a potential route to the Sacramento River is temporarily blocked, keeping fish from straying.
Improving habitat. EBMUD and its partners add gravel to the river to increase the amount and quality of the natural spawning habitat. EBMUD also works with staff and volunteers to clean up the river.
Trapping and Trucking. During Dry and Critically Dry water year types, EBMUD implements trapping and trucking operations for emigrating Chinook salmon smolts when in-river conditions necessitate such actions. The goal of trapping and trucking is to reduce mortalities associated with elevated water temperatures and predation on outmigrating smolts downstream of Woodbridge Irrigation District Dam and delta.
In the long term, EBMUD and its partner agencies believe that by improving habitat, modifying hatchery practices, better coordinating Delta operations and continuing the robust scientific study program on the river, the Mokelumne salmon return will continue to increase and be a model for recovery on other Central Valley river systems.  Furthermore, the management actions listed above have been effective in minimizing the impacts of drought as evidenced by the returns observed in the last four years.