Due to severe storm damage last winter, some trail areas have been closed or partially closed. Please respect the closures and continue to check back for updates as we work to repair and restore these areas for public use.  Last updated November 22, 2023.
Chabot Staging Area is closed to vehicles until further notice.
Partial closures, detours, and cautions:
Use caution at the Buckhorn Creek crossing on the Rocky Ridge trail.
Take a virtual tour of some of EBMUD Rangers' favorite hikes for inspiration for your next adventure. You will redirect off ebmud.com. Must use Google Chrome or Microsoft Edge.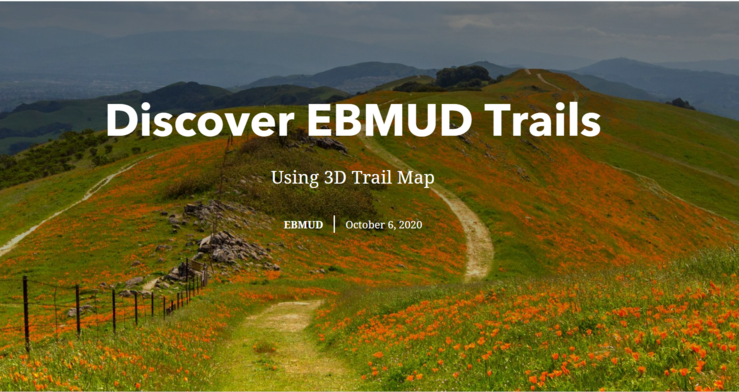 EBMUD is pleased to provide an update to our East Bay trails maps, a new interactive 3-D version, and updated printable versions.
Using Geographic Information System mapping technology, this 3-dimensional experience offers detailed trail locations, access points, elevations, amenities and a search function that allows you to find your ideal trails, whether you are an endurance runner looking for your next challenge, or a pet parent in search of a dog-friendly stroll.
We'd love to hear what you love. Share photos and review of your favorite #ebmudtrails on Facebook and Twitter.
Watch the video below to learn how to use the new interactive map.
Printable maps

View the entire East Bay trails system, and the map key to learn what our symbols mean.

Check out the Lakeside Nature Trail and all connecting trails at Lafayette Reservoir.

This Printable pdf map shows the North Watershed trails system around San Pablo and Briones reservoirs.

This printable pdf map shows the South Watershed trails system around Upper San Leandro and Chabot reservoirs.
Permits and trail maintenance

Permits are required at all times on EBMUD trails; purchase online.

Whether it's a fallen tree or a patch of eroded earth, we want to know about it. Report trail problems here.
Contact
EBMUD: Recreation@ebmud.com 
Police: East Bay Regional Park Police 24-hour dispatch 510-881-1833.
Emergency: 9-1-1