Home grown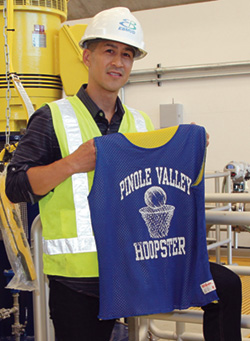 Living in one of the most desirable areas in the world means many who are born in the Bay Area stay in the Bay Area. EBMUD is fortunate that many of our 2,000 employees were born and raised on EBMUD water. Today, Damon Hom is Superintendent of Water Treatment, Distribution and Quality. Back in the day, Damon was an average Pinole Valley High student who pursued civil engineering from Contra Costa Community College to UC Berkeley. Now Damon enjoys opportunities to return to his alma mater and talk to high school students about careers in science and public service.
Science fairs and outreach groups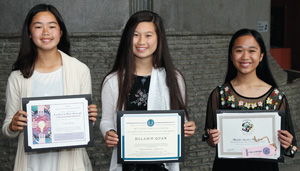 For decades, EBMUD has sponsored science fairs and other groups who work with students to ready them for careers in the water world. Our work in county science fairs paid off this year with three winners coming from the EBMUD service area. We also support youth programs like Girls Inc., Rising Sun Energy Center's youth employment program, and the Rose Foundation's New Voices Are Rising, which empower youth to make the world a healthier place for all.
The next generation of water workers
EBMUD's intern program provides work experiences for young adults that inspire them to consider careers in the water and wastewater industry. These high school students from throughout our service area are recruited through community partner organizations. They receive skills development in a professional setting. In addition to office environments, interns can experience what it's like out in the field repairing EBMUD pipes, understand what it takes to design a pumping plant or water tank, and see what we do to keep our dams safe. This exposure connects interns with potential careers and demonstrates the challenging and complex work EBMUD employees undertake to serve our community. See a video on our 2018 interns at ebmud.com/education.