Gold stars for green businesses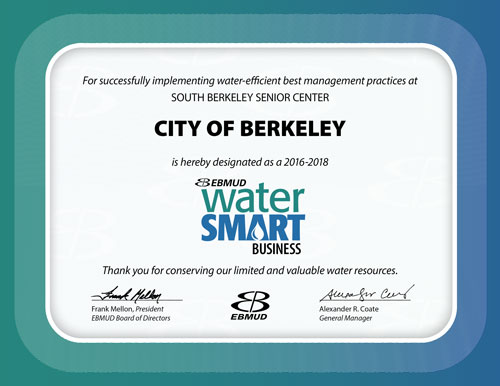 Who's got smarts enough to know that water efficiency is the way to go? These 17 East Bay businesses were just certified as WaterSmart.
EBMUD applauds these business owners' green efforts to reduce water use. It takes an investment to upgrade fixtures and pass water conservation inspection tests, and for their efforts we are all grateful. Please join us in thanking the following local business owners for their dedication to making wise use of our shared resource—water. Conservation: it's a way of life.
Alameda Auto Lab
Alameda Cellars Wines & Liquor
Angeline's Louisiana Kitchen
Arts Automotive
Barney's Gourmet Hamburger
Boulevard Auto
Burrough & Sons Auto
Choicelunch
North Berkeley Senior Center
South Berkeley Senior Center
West Berkeley Senior Center
Dana Meyer Auto Care
FH One
Le Bateau Ivre
Lee Auto Supply
Oakland Auto Works
Triple Rock Brewery