Learn about the work and the skilled workers that keep EBMUD's water and wastewater systems flowing. Follow us on Twitter @ebmud to see our regular employee profiles.  
Ryan, Survey Technician II
Keeping EBMUD On Point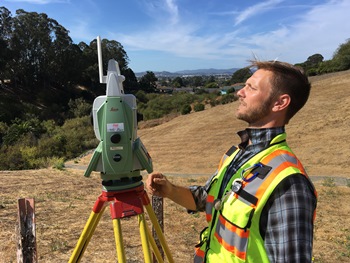 EBMUD owns and manages around 60,000 acres of land, sharing property lines with homeowners, farmers, state parks and more. With so many neighbors, we rely on surveyors such as Ryan to locate property boundaries with precision.
 "We have a lot of property, but not all of it is well-defined," says Ryan, a Survey Technician II. "Accurately depicting what is on the ground is a useful tool for engineers, designers and construction crews. We can pinpoint down to the thousandth of a foot where boundaries are located."
The survey group also creates topographical maps and stakes locations for construction crews. Surveyors also provide spatial information – whether it's an encroaching vineyard or locating the centerline of a planned pipeline – so that EBMUD can complete engineering and construction projects with accuracy.
Before starting at EBMUD in 2015, Ryan worked as an archaeologist. But it was the supportive team mentality, the opportunity to work outside, and the daily variety of work that drew him to this agency.
"I enjoy the variety of work survey provides," says Ryan. "Sometimes we are mapping a neighborhood, sometimes we are in the hills defining property lines, and some days we are marking where a designed pipeline should go. Every day is different."
Joe, Assistant Wastewater Shift Supervisor 
Keeping the Bay clean. 
Joe is an assistant wastewater shift supervisor at EBMUD's Wastewater Treatment Plant below the MacArthur Maze. He oversees work to help protect our San Francisco Bay by cleaning wastewater before it is discharged into the Bay. After nearly 9 years with EBMUD, he says nothing could tempt him away from the work he does here.
"I was working in the engineering department at a major company that makes engines for airplanes, but I was producing paper and computer files all day," Joe said. "The biggest thing that was different when I got here was getting dirty on a daily basis. I like working with my hands. For someone with my education level and skill set, this is a dream job — I feel like I won the lottery."
Joe began his employment as a treatment plant operator and worked his way up to his current position. He recently re-launched EBMUD's Wastewater Treatment Plant tours, which had been dormant for years.
 "This place is where you can build a career, the kind of place where you can plan to be for decades. It's not just another job in a series of jobs. I think the workload is reasonable, the job duties are well-defined and the supervisors set clear, reasonable expectation. I really enjoy that."
---
Tara, Associate Civil Engineer 
Taking on technology. 
Tara is an Associate Civil Engineer in EBMUD's Pipeline Infrastructure Division, where she designs and implements the renewal and replacement of some of the District's 4,200 miles of water pipe. Tara's favorite part of her job is looking for ways to innovate: "We're always looking for new tools or materials to use."
Tara is working on two projects which use technology that will help EBMUD quicken the pace of pipeline renewal. One uses a new form of PVC, called PVCO pipe, which is more resilient to earthquakes. Developed in Canada, this pipe has been tested at the world's premier seismic testing facility for pipelines at Cornell University. EBMUD is the first in the U.S. to use this kind of pipe.
Tara is also working with a trenchless technology which coats the inside of existing pipes with a hard resin. "The resulting pipe-within-a-pipe has an anticipated lifespan of more than 50 years, and has the benefit of being a faster process that's less disruptive to neighbors than traditional pipeline replacement."
Tara has been with EBMUD for 11 years but her aspirations to be part of the team began well before that.
"When I was younger, I used to run around EBMUD's Lafayette Reservoir with my mom. It was so pretty, that I wanted to work for the District."

---
Bryan, Water Treatment Supervisor
Around the clock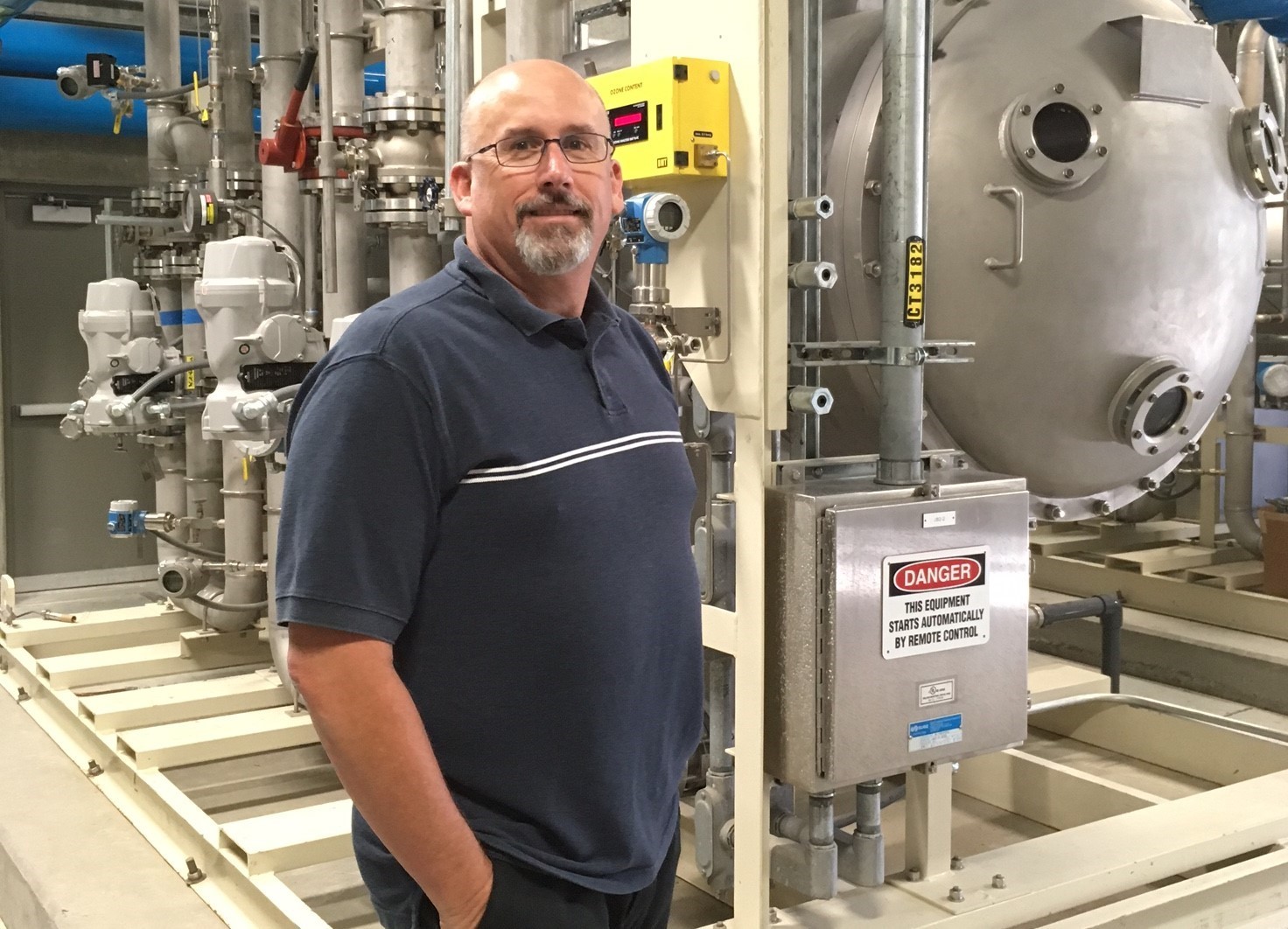 Bryan is a Water Treatment Plant Supervisor who oversees the Sobrante Water Treatment Plant in El Sobrante. He arrived at the District 26 years ago as an operator with ten years of experience under his belt from several different water agencies, and was ready for a new challenge – producing ozone at the Sobrante plant. Now, almost three decades later, he's seen that old ozone infrastructure run its course and new technology take its place. Bryan has worked at all six EBMUD water treatment plants that provide water to our 1.4 million customers. Though he's a supervisor at the Sobrante Water Treatment Plant, he has a soft spot for the San Pablo Water Treatment Plant because "it's like an old car, historic, built in 1919."
Bryan and his team manage water coming in and out of the water treatment plant around the clock. They work with water treatment chemicals, lab staff, water quality staff and other departments to produce safe drinking water to meet customer demand. It's a job that requires a lot of autonomy since you often work alone. And it's a job that can keep you on your toes.
"There's no typical day in the water treatment world, you have to be able to adapt to new challenges because the public health of 1.4 million customers is on the line." Bryan said. Bryan loves supervising because it allows him to teach others.
"This is a great place to work and even better when you are engaged," he said. "So find what you're good at, but don't stop there."
Ben, Water Distribution Plumber III
Knowing the system.
Ben loves working with water and on a system that serves the public. It's one of those great things we rely on every day. As a plumber, Ben is out on the streets every day, meeting with residents, builders, and constantly learning.
Ben spent 12 years working as a union laborer saw-cutting concrete for construction projects around the Bay Area. Five years ago, he qualified as a water distribution plumber and began working on the pipes and infrastructure that keeps water moving.
Ben works out of EBMUD's North Yard in Richmond. He and his team members are constantly on the move even in these recent rains. Having grown up in Michoacán, Mexico and immigrating to the Bay Area at age 16, he still remembers the limited water available in his hometown. He enjoys teaching friends, relatives, and people on the street about the great system we rely on every day.
He says the question: "How many times have you been without water?" is always a conversation starter.
"As a plumber, you need to know what to look for. You need to know this system. It's like a great treasure hunt, under the streets. I'm learning every day."  
---
Paul, Associate Civil Engineer
A leader in removing lead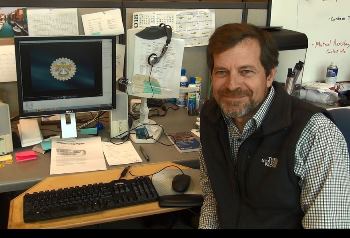 One of the most memorable moments in Paul's career came via text message. When he began his career as an associate civil engineer at EBMUD in 2003, Paul's first major assignment was to help the District develop a state assembly bill that took on one of the most significant water quality issues of our time: the Get the Lead Out campaign. That bill later became the federal standard for safe plumbing to eliminate lead contamination in tap water, and Paul remembers this as a formative moment in his life's work.
"It was Friday afternoon and the Governor had all these bills on his desk, including our AB 1953, and we didn't know what he was going to do," Paul recalls. "For hours I would respond to all sorts of technical questions about the bill, and then it all went quiet. The next morning, my boss called me at home and he said 'I received one text message: Bill signed.' It was very awesome. Definitely one of those moments you don't forget."
Now his work has shifted to supporting EBMUD's interests as they pertain to the Water Fix Delta tunnels project, which involves monitoring how other agencies are reacting to and influencing the proposal. Paul says the work is so important that he has doubled-down on his commitment to EBMUD.
"My role gives me some good perspective about what you choose to do with your life," Paul said. "I feel good about the work I do here, and I don't ever feel like I have to apologize to my kids for what we're doing to the environment. This organization is efficient and effective and it feels like we're always on the right side of things."
Nalani, Carpenter
Keeping up with the signs.
Nalani runs the EBMUD sign shop and spends her days designing, building, and in some cases installing everything from basic signage (think construction or project notice signs to alert the public to EBMUD field work) to signs at EBMUD facilities, banners and recognition plaques. Because of the diversity of her work and the materials she works with, she says, "I'm not what people think of as a typical carpenter."
Nalani gets a lot of satisfaction from working on employee recognition materials, including a wooden plaque in the shape of a drop of water, which is given to EBMUD staff after 20 years of service. "I came up with the idea, designed it, and now I build each one by hand to honor our dedicated employees." She's also proud of her work on several four-by-twelve foot signs at EBMUD's San Pablo Reservoir watershed headquarters. Nalani says with a smile: "I have a lot of fun tools."
As for what has kept her at EBMUD for ten years, Nalani says: "The carpenters, painters, machinists and electricians I work with are great tradespeople. They're honest, we respect each other, and there's a real sense of community."
"There's a level of integrity and pride in working at EBMUD."  
---
Edna, Environmental Health & Safety Specialist II
Saving lives with good listening.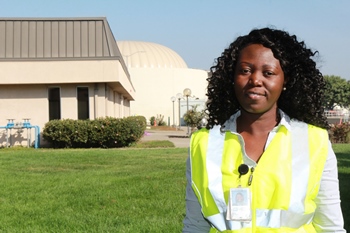 Before her current assignment ensuring worker health and safety for EBMUD's wastewater system, Edna managed an audit program that reviewed safety compliance at over one hundred EBMUD facilities. As a result, she has been inside more EBMUD facilities—from water treatment plants to pumping plants – in the past two years than many other employees have in their entire careers. As a result of Edna's visits, her colleagues can feel more safe and at ease in their workplaces.
Prior to joining EBMUD, Edna worked as an environmental health and safety professional in the oil and gas industry in Houston, Texas, and in her home country of Kenya. She says the best way to make the work environment safer is by engaging the people doing the work. "I go out there and listen to them. I like to talk to people. It makes me understand better what challenges they are going through."
Edna loves working for EBMUD, because everybody has "a great attitude and a team spirit." She says that her colleagues remind her of her favorite basketball team, the Golden State Warriors, because they prioritize teamwork over a single star player. "The whole team moves together like different parts of a highly functional machine."
 "Respect is really the first thing that we have to give to each other."
Joy, Senior Administrative Clerk
Making equity count.
Joy works in EBMUD's contract equity program, which enhances opportunities for business owners of all races, ethnicities and genders who are interested in doing business with the District. "We reach out and encourage minority- and women-owned, as well as disabled, veterans, especially small and local businesses – to bid on our contracts."
Her role requires quality customer service, answering complicated questions from potential vendors. She also processes the complex forms detailing progress towards EBMUD goals in contract equity. "In my first month, I was just learning; now, six months in, I'm doing it myself. I see the finalized materials going to the Board of Directors and feel a sense of accomplishment."
The work is deadline-driven and fast-paced, which suits Joy's ability to multi-task and be flexible: "When someone says, 'I know you're in the middle of something, but there's a pending project that takes precedence,' I do it, then I'm able to pick right up where I left off."
Joy loves the diverse atmosphere at EBMUD: "This is the biggest company I've worked for. Seeing different people every day lifts my spirits up. Everyone is so welcoming."
"It's like a family, even though I've been here such a short time." 
Julia, Manager of Business Continuity
Staying prepared.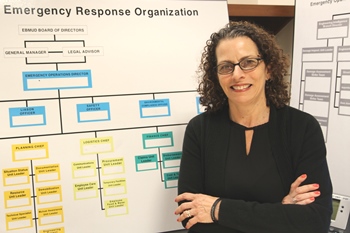 As Manager of Business Continuity, Julia ensures that the District has plans for resuming normal operations and critical business functions as quickly as possible if (and when) disaster strikes.
"As water suppliers, our critical infrastructure supports life. You can live without power but you can't live without water."
Julia oversees almost two dozen business continuity plans for the District's various departments and work units, which are updated and exercised regularly. In addition, Julia works with mutual aid partners, cities and counties to identify shared resources, how to work together in emergencies and determine vulnerabilities. "After a disaster, we may not be able to easily access the resources we need to operate so we need to identify alternatives and have a mitigation plan in place."
Julia not only focuses on preparing for disasters, she also guides daily operations through changing times. "It is not all doom and gloom. We also ensure there is knowledge retention in case of retirement or employee transition. We look at cross training, documentation, and identifying which parts of our business are mission-critical to ensure water flows and wastewater is treated."
Julia joined the District 17 years ago as a Laboratory Supervisor in the Wastewater Department. The position of Manager of Business Continuity didn't even exist until Julia filled the role in 2006, and she has turned it into an award-winning program that is ever-evolving, maturing and continuing to improve. 
"There is no template or model for what we do (after emergencies) in the water and wastewater industries. It is a very collaborative effort and everyone has to work together and support each other to make things happen."