Oakland, May 3, 2023
EBMUD and Drake's Brewing Co. partner on centennial lager to support Water Lifeline
The collaboration celebrates 100 years of clean, reliable water in East Bay
OAKLAND – As the East Bay Municipal Utility District (EBMUD) celebrates its 100th anniversary in 2023, it is partnering with Drake's Brewing Co. to highlight a shared dedication to water quality, sustainability and community. The Bay Area water utility and San Leandro-based brewer are proud to release Water Wings East Bay Lager, a crisp, refreshing beer that showcases the high-quality water EBMUD has been delivering from the Sierra Nevada to the East Bay for a century.
"When up to 95 percent of your beer is water, you have to consider this the most important ingredient when brewing great beer," said Drake's Sustainability Manager Hal McConnellogue. "EBMUD provides Drake's and the East Bay community with some of the best water in the United States. To help celebrate EBMUD's 100th year of operation, we jumped on this once-in-a-lifetime opportunity."
The Water Wings label features the Mokelumne River, Pardee Reservoir in the Sierra foothills, the vast EBMUD watershed, and a nod to the complex infrastructure that delivers clean, safe water to every home, business, school and hospital in EBMUD's service area.
This special collaboration with Drake's supports EBMUD's Water Lifeline program to keep drinking water accessible for the region's most financially vulnerable households. Just as inflatable water wings help one stay afloat when swimming, Water Wings proceeds will assist EBMUD customers who need assistance while facing an emergency that affects their ability to pay their water bills.
"Water is essential," said EBMUD Board President Andy Katz. "EBMUD is proud of our vital role in our community, and we're excited this partnership supports our work to make clean, reliable water affordable for everyone we serve. A portion of Water Wings East Bay Lager sales will give a financial lift to our neighbors in need."
Drake's will package Water Wings at its San Leandro facility on Thursday, May 4. The brewery will then release Water Wings on draft and in cans at their local retail locations – Drake's Dealership in Oakland and Drake's Barrel House in San Leandro – on Friday, May 5. Shortly after, it will distribute Water Wings in cans to various retailers in Alameda and Contra Costa counties for a limited time.
Drake's is a proud sponsor of EBMUD's Centennial Community Fair on May 21 at Lake Temescal in Oakland (ebmud.com/100Party). The free event will feature a ticketed beer garden where Water Wings and other Drake's beverages will be served. Proceeds will support EBMUD's Water Lifeline.
"I am inspired by how seriously Drake's Brewing takes the quality of their water supply and the pride they have in their creations," said EBMUD Director of Operations and Maintenance David Briggs. "Naturally, we make good partners. This commemorative brew is a labor of love, and I am so proud we made it together. Locally."
East Bay residents voted to create EBMUD, which began serving the community on May 22, 1923, to develop a safe and reliable public water supply to meet both their immediate needs and those of future generations. For 100 years, we've supported the East Bay's health and economy while protecting the environment. EBMUD remains committed to building resilient and reliable water and wastewater systems of the future.
Learn more about EBMUD's Water Lifeline or donate at ebmud.com/lifeline.
Find out more about Drake's Brewing and their sustainability efforts at drinkdrakes.com.
###
The East Bay Municipal Utility District has a proud history of providing high-quality drinking water for 1.4 million customers in Alameda and Contra Costa counties. EBMUD's wastewater system serves 740,000 customers and helps protect the ecosystem of San Francisco Bay. EBMUD is a not-for-profit public agency established in 1923.
Connect with EBMUD / ebmud.com / Twitter / Facebook / Nextdoor / LinkedIn / YouTube
Drake's Brewing Company started inside a former Dodge car factory in San Leandro, Calif., in 1989 and has been crafting award-winning beers ever since. It serves customers from three retail locations in the East Bay and West Sacramento with distribution throughout the state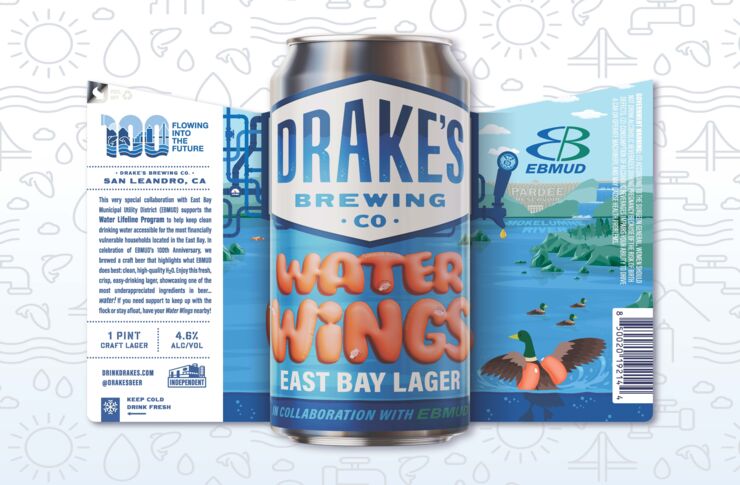 Contact