The Longest Mile Wildflower Hike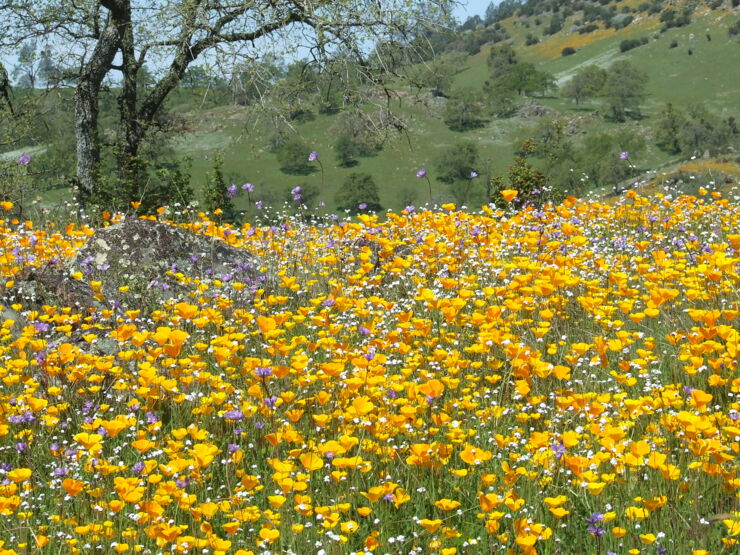 Spring is upon us and EBMUD is preparing for a spectacular wildflower bloom this year. Starting mid-April Rangers will have identified and marked some of the different wildflower species along the trail. If you would like to see mother nature put on a good show, visit us on a self-guided hike to see the Mokelumne River watershed adorned with purple shooting stars, hounds-tongues and California poppies. Situated along the Mokelumne River between Valley Springs and Jackson, "The Longest Mile" is a rugged and beautiful section of the Mokelumne Coast to Crest Trail that is perched along the river canyon and boasts exceptional views. Known for its challenging, steep grades, this 3-mile round-trip trail is suitable for avid hikers.
Trail Use Permit Required: Click here for more information about our trail permits.

What To Bring: Lunch, drinking water, hiking shoes, long pants, insect/tick repellent, sun glasses and sunscreen. Optional: camera, binoculars and wildflower field guide. No pets or alcohol.

Level of Difficulty: Strenuous. Starting at the Rich Gulch Trailhead plan to hike a challenging and steep trail section until reaching the top, known as Patti's Point.

Weather Conditions: Rain or shine, be prepared for changing temperatures. Click here for weather
information.
FOR MORE INFORMATION
Call: 209-772-8260
Email: volunteer@ebmud.com