At EBMUD, we're striving to develop a workforce as vibrant and diverse as the Bay Area. We have a responsibility to build and cultivate an inclusive and equitable organization of highly talented people and to create opportunities for them to deliver their – and our – best work. We believe a diverse organization sparks creative insights, better solutions, and ultimately, greater efficiencies.
EBMUD has long prioritized these goals, but there is always more to do. In 2022, EBMUD adopted its Diversity, Equity and Inclusion Strategic Plan that includes cultural competency training, a re-examination of recruitment processes and steps to identify career pathways. As part of EBMUD's social responsibility and efforts to diversify the workforce, we continue to work with community partners to provide high school and post-secondary training opportunities through internship programs. These programs prepare participants, including from underrepresented communities, for potential employment in the water and wastewater industry.
These efforts not only advance our Diversity Plan, but also EBMUD's public service mission and our core values of Stewardship, Integrity, Respect, and Teamwork. As a local public agency with 100 years of history, we're proud to reflect the community we serve and provide an environment of belonging and inclusiveness.
Internships
Each summer, EBMUD welcomes high school students to participate in internship programs. Interns receive mentorship, gain job experience and explore career pathways.
The EBMUD internship has been an eye-opener for me. The amount of professions involved is truly amazing. As I come home every day and turn on the faucet, I think about how difficult it is for that water to get delivered to my house. This internship has made me love and appreciate the water we so easily take for granted.
– Tina, 2023 EBMUD high school summer intern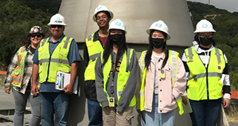 From left: Senior Construction Inspectors Terriane Reed and Jack Alexan with EBMUD high school summer interns José, Hannah, Tina and Jahmaya during a site visit to San Pablo Reservoir.
Want to join EBMUD's high-performing workforce dedicated to public service, innovation, and building a culture of inclusion and belonging? Visit ebmud.com/jobs.