Tucked among homes and trees in the Oakland Hills, Carisbrook Reservoir could be mistaken for a UFO landing pad. The complex's new one million-gallon pre-stressed concrete tank, pumping plant and solar panels — all built within the rounded walls of the aged-out reservoir it replaced — are among the latest EBMUD investments to ensure water quality and system reliability for our 1.4 million water and 685,000 wastewater customers.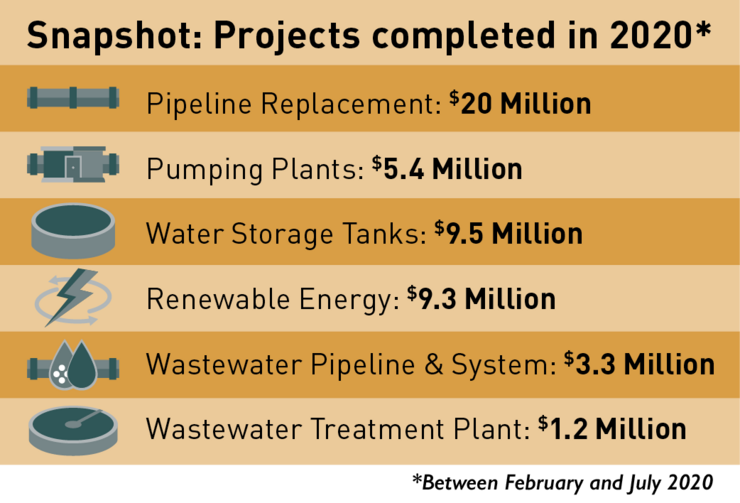 From February through July 2020 alone, EBMUD completed work on more than 20 community infrastructure projects totaling $49 million. These included rehabilitated neighborhood water storage tanks, renewable energy projects and new water pipelines that better withstand earthquakes. We also invested another $61 million in ongoing projects for a total of $110 million.
Expect more to come. A recent study by the American Society of Civil Engineers and Value of Water Campaign found that billions in drinking water and wastewater infrastructure investment is needed across the United States as pipes, storage and treatment facilities age. As EBMUD approaches its centennial in 2023, we spend roughly two-thirds of our annual budget on capital investments to improve our systems. Many EBMUD facilities were built before the neighborhoods they serve grew up around them. Projects like Carisbrook are never easy, especially when conducted in the tight quarters of otherwise quiet residential areas. EBMUD plans carefully, installs sound-dampening materials and works closely with the surrounding community. It's impossible to eliminate the noise and dust of construction. But just as our infrastructure has served us well over the past century, we build with an eye on the long haul.
"We understand that this critical work can be disruptive," says EBMUD Community Affairs Representative Laura Luong. "But it makes water service more reliable, and when the job is done, it will last for decades."