Oakland, May 19, 2023
EBMUD partners with Oaklandish, BART, Drake's Brewing and other Bay Area organizations to celebrate 100 years of water service
Collaborations with local businesses, nonprofits and public agencies mark a century of providing clean, reliable, affordable water to East Bay communities
OAKLAND – As the East Bay Municipal Utility District (EBMUD) celebrates 100 years of water service, it is partnering with Oaklandish, Bay Area Rapid Transit (BART), Drake's Brewing Co., and other local organizations on a series of creative collaborations that deepen EBMUD's investment in the community and raise funds to ensure safe, reliable and affordable water is available to financially vulnerable households.
The unique partnerships include:
Oaklandish – A limited-edition t-shirt designed by Oakland-based arts organization Oaklandish, celebrates the journey of water from the Mokelumne River watershed, where EBMUD sources the majority of its supply, to the East Bay. The unique design explores the convergence between the infrastructure that brings life-sustaining water to communities, native vegetation, and aquatic life. In the design, the Pardee Reservoir spillway, nestled in the Sierra foothills, gushes water that will reach East Bay cities, including downtown Oakland, which is featured prominently. The journey ends with a glimpse of the Bay Bridge in the background to celebrate the final phase in the wastewater journey, where each drop is treated to protect the Bay. The t-shirt can be purchased online at Oaklandish.com and is available at Oaklandish's store in downtown Oakland. It will also be sold at EBMUD's 100th Birthday Party and Community Fair on May 21. A portion of the sales proceeds will support EBMUD's Water Lifeline program to keep drinking water accessible for the region's most financially vulnerable households.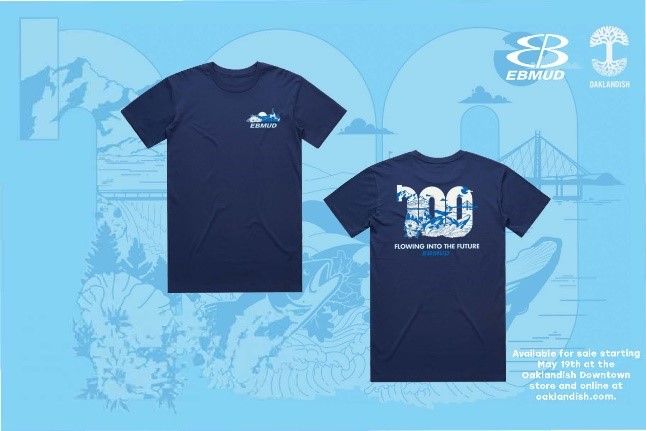 BART – BART is a sponsor of the EBMUD 100th Birthday Party and Community Fair, a free, family-friendly event on May 21 from 11 a.m. to 4 p.m. at Lake Temescal in Oakland. BART and EBMUD are partnering to bring our community together to celebrate the value of water, connection and the environment. Due to very limited parking at Lake Temescal, there will be free parking at the MacArthur and Rockridge BART stations. Free shuttles to the event and back will run every 10 minutes. BART is also hosting an EBMUD Centennial Swag Bag giveaway.
 
Drake's Brewing Co. – EBMUD collaborated with San Leandro-based Drake's Brewing to launch a special Water Wings East Bay Lager, a crisp and refreshing beer that showcases the high quality of EBMUD water sourced from the Mokelumne River in the Sierra Nevada foothills. This collaboration is built upon a shared commitment to water quality, sustainability and community. A portion of Water Wings sales proceeds will benefit EBMUD's Water Lifeline program. The limited-release beer is available at Drake's three retail taprooms – Drake's Dealership in Oakland, Drake's Barrel House in San Leandro and Drake's Barn in West Sacramento – as well as at select retailers in Alameda and Contra Costa counties including Lucky's, Piedmont Grocery, Farmer Joe's, Savemore Market, Rocky's Market, Crown Liquors, Diablo Foods, More Beer!, Woodminster Market, Jackson's, Monument Wine and Spirits, Total Wine and other locations. Drake's is also a proud sponsor of EBMUD's 100th Birthday and Community Fair, which will feature a ticketed beer garden where Water Wings and other Drake's beers will be served to benefit Water Lifeline.
These partnerships build on EBMUD's mission of providing reliable, high-quality water while remaining committed to environmental stewardship. They also highlight East Bay artists, craftspeople and innovators who embrace community and sustainable business practices.
"Our mission at Oaklandish is to celebrate Oakland and the East Bay, and we pride ourselves on having some of the best-tasting tap water in the country!" said Oaklandish CEO Angela Tsay. "For 100 years, EBMUD has been serving the community, and we're so honored to partner with EBMUD on creating a collaborative t-shirt design celebrating their centennial. Our design takes the EBMUD centennial logo and animates it with imagery of the landscape of the Bay, plus the flora and fauna that inhabit it, celebrating the ecosystem that water brings to life."
Since no celebration is complete without a party and guests, EBMUD has partnered with BART to bring the public to its 100th Birthday Party and Community Fair on May 21 at Lake Temescal in Oakland.
"BART and BARTable are a proud partner of the EBMUD 100th Birthday Celebration and Community Fair on May 21 at Lake Temescal where you'll find something to do for the entire family!" said BART Marketing Principal Jill Buschini. "Like BART, EBMUD provides a much-needed resource to the Bay Area and has delivered clean water to over 1.4 million East Bay residents for the last 100 years. Join us by taking BART to MacArthur or Rockridge station and catch the free shuttle to the event. Then, stop by the BART and BARTable booth to sign up for the weekly BARTable email newsletter and take a spin on the prize wheel and help us celebrate EBMUD's 100th Birthday!"
EBMUD was founded in 1923 following a vote by East Bay residents to form a municipal water system that would provide reliable, high-quality water to a rapidly growing population. For 100 years, EBMUD has been a dedicated community partner and looks forward to another century of essential water service.     
###
The East Bay Municipal Utility District has a proud history of providing high-quality drinking water for 1.4 million customers in Alameda and Contra Costa counties. EBMUD's wastewater system serves 740,000 customers and helps protect the ecosystem of San Francisco Bay. EBMUD is a not-for-profit public agency established in 1923.
Connect with EBMUD / ebmud.com / Twitter / Facebook / Nextdoor / LinkedIn / YouTube
Contact