EBMUD Water Wednesday webinars feature expert discussions about drought, water supply, water quality, conservation, low-water gardening, and much more. 
Watch previous Water Wednesdays on YouTube.
Watch November Water Wednesday:
Seeking the Source
EBMUD's drinking water makes an incredible journey to arrive at our taps.  As drought and climate change generate renewed interest in where our water comes from some people are taking extraordinary steps to seek the source.
Join the conversation with local "water walkers" John Silva and Nina Gordon-Kirsch as we learn about their recent 200 plus mile adventure tracing the entire length of the Mokelumne River to call attention and raise awareness to the value of our water supplies.
EBMUD's Casey Del Rey, a Supervising Fisheries & Wildlife Biologist, joins the discussion to share what proactive measures EBMUD is taking to protect our watershed and the surrounding natural environment. 
Previous Water Wednesday: Demystifying Desal
"Water, water, everywhere, Nor any drop to drink"- poet Samuel Taylor Coleridge  
In areas surrounded by water, why are water agencies still scrambling during drought years? Desalination, "desal," seems like the panacea for areas where ocean water is abundant and yet many coastal water agencies are not currently pursuing this technology.  
Find out in EBMUD's next Water Wednesday where desal fits into our long-term water supply goals from Senior Civil Engineer, Hasan Abdullah; and hear from leading experts in the future of desal technology, Meagan Mauter, Ph.D., Stanford; and Jenn Stokes-Draut Ph.D., Lawrence Berkeley Lab, about desal's challenges and possible solutions.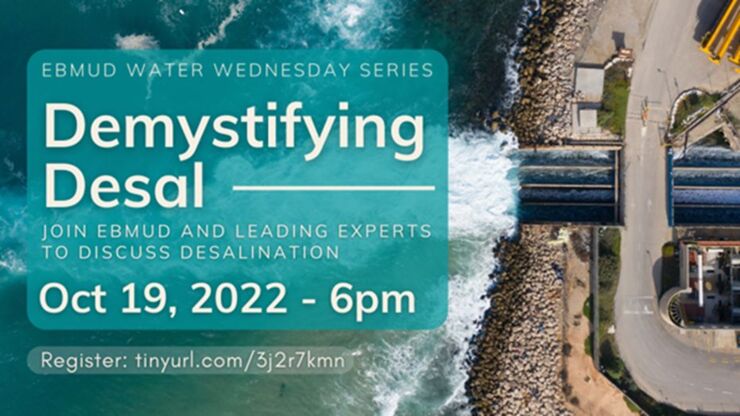 WATCH: "Demystifying Desal" Water Wednesday on YouTube.
Previous Water Wednesday: Fire fight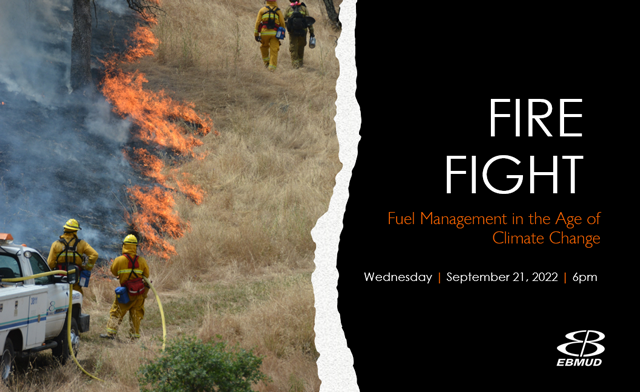 It is the "hottest" topic in California… Fire. As we face what are now annual wildfires throughout the Golden State, find out what East Bay MUD and East Bay Regional Park District are doing to prevent fires in our watershed and learn how we ensure a reliable water supply during times of high fire risk. Vegetation Management is the key to reducing fuel for these wildfires that can affect our water supplies and the region's wellbeing.
WATCH: "Fire Fight" Water Wednesday on YouTube.