August 15, 2022
Detour in place at SB I-880 Exit 39B 23rd Avenue in Oakland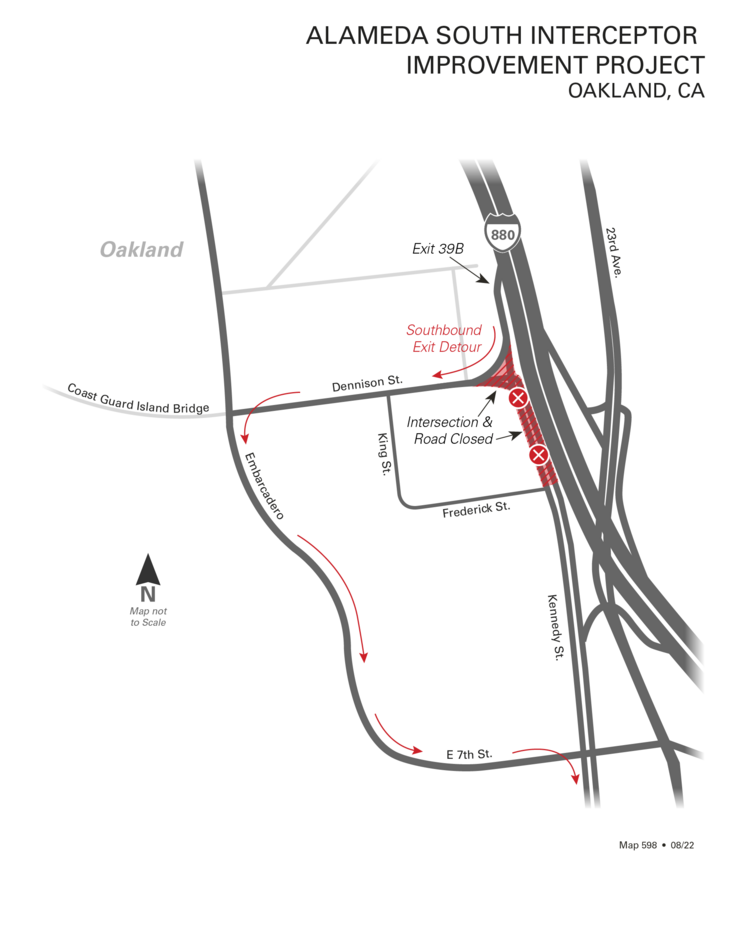 OAKLAND – The intersection of Kennedy and Dennison Streets in Oakland is closed while East Bay Municipal Utility District contractors perform an urgent repair on a damaged sewer interceptor. When exiting the offramp at southbound I-880 Exit 39B, traffic will be directed westbound onto Dennison Street toward Embarcadero, detour signs will be in place. There will be impacts to traffic flow in the area, plan your commute accordingly. All businesses in the area will remain open during construction.
Repair work began Monday, August 15, 2022 and will continue through November 2022. The intersection of Kennedy and Dennison Streets will remain closed 24/7 for the duration of the repair. As a result, the southbound freeway offramp will also be closed, but the westbound offramp will remain open.
Customers in the area may contact construction-wastewater@ebmud.com for more information.
Sign up at ebmud.com/subscriptions to receive notifications and alerts about water outages, emergencies and construction work in your neighborhood.
For media inquiries call 510-287-0138.
###
The East Bay Municipal Utility District has a proud history of providing high-quality drinking water for 1.4 million customers in Alameda and Contra Costa counties. EBMUD's wastewater system serves 740,000 customers and helps protect the ecosystem of San Francisco Bay. EBMUD is a not-for-profit public agency established in 1923.
Connect with EBMUD Twitter / Facebook / Nextdoor / LinkedIn / YouTube
Contact